The Fourth OneBridge Seminar will be held on October 27th
Events 2014.10.21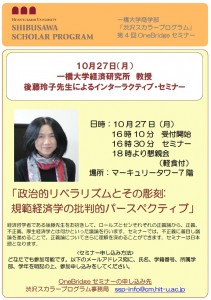 The fourth OneBridge Seminar will be held on October 27th. The guest speaker is Prof. Reiko Goto from the Institute of Economic Research, Hitotsubashi University. She will introduce theories on justice of Rawls and Sen, and examine how a focus on injustice can help us better formulate an alternative theory of justice. The talk will be in Japanese.
Date:October 27th, 2014
Time: 16:30-18:00
Venue: 7th floor, Mercury Tower
Pre-registration is required. To register, please send an email to ssp-info@cm.hit-u.ac.jp with your name, student number, and affliated Faculty.