Call for Student Teams: Give an English Presentation at the Global Human Resource Development Forum (November 23rd)
Events 2016.06.28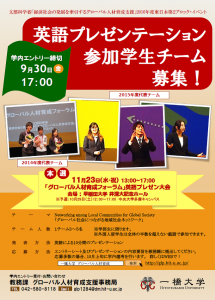 We are seeking student teams to take part in the Global Human Resource Development Forum to be held at Waseda University, on November 23rd, 2016. This event is jointly organized by the 18 universities comprising the East Japan 2nd Block in the Project for Promotion of Global Human Resource Development led by the Japanese Ministry of Education, Culture, Sports, and Technology (MEXT). One of the main sessions at the Forum consists of an English presentation by student teams selected from among the participating universities.
One team from each university in the block will enter the competition. Following a selection process, only those teams which pass the first elimination round will give presentations at the Forum. The top three teams will receive commendations.
Hitotsubashi University's team gave presentations at the Forum for two consecutive years and won first prize in 2014.
For details about the presentation theme, selection process, schedule, or any other information, please see below (written in Japanese.)
【Inquiries】
Project for Global Human Resource Development Section, Educational Affairs Division
Email: glp1284@dm.hit-u.ac.jp
T E L: 042-580-8118