2017 Short-Term International Field Study Reports [China]
Events 2017.10.17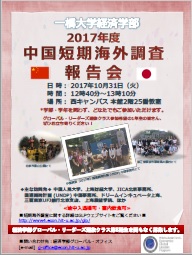 One of the major projects of the Global Leaders Program in the Faculty of Economics is short-term international field studies.
The students who took part in the project will deliver
presentations about what they found out.
For details, please check here.
Date: Tuesday, October 31th
Time: 12:40 – 13:10
Venue: Room#25, Main Building, West Campus
Program: Student presentations on their field studies in China.