The Key Is Thinking What One Can Do with a Japanese Cultural Background
What Makes a Graduate Internationally Competitive?

In Conversation with a Global Leader


Mari Yamashita

Director of the United Nations Information Center (UNIC) in Tokyo

× Ryo Oshiba

Board Member/ Executive Vice President

Ms. Mari Yamashita has been active on the international political stage for 22 years as a staff member of the United Nations Secretariat. She is currently the Director of the United Nations Information Center (UNIC) in Tokyo. Nowadays, one often hears that the Japanese have lost their confidence and become overly introverted. In this interview, we asked Ms. Yamashita to discuss how Japan has been seen in the context of international society, and what is required of Japanese today. Her response offers valuable advice for those Japanese active in international society.
Raised in an International Home Environment and Longing to be at the United Nations
Oshiba
Here at Hitotsubashi University, we have been developing various programs in order to foster individuals who can play an active role in global society. It is a pleasure to have the opportunity to speak with someone active in the United Nations, a global institution in every sense of the term. First of all, could you please tell us about your motivation to work at the UN?
Yamashita
My mother is Finnish, and my father is Japanese and worked as a diplomat. We spent a fairly long time in Germany and India, so I was raised in a rather international home environment. In such a situation, I naturally came to be interested in international jobs. It was when I was in my first year of high school in Bombay (Munbai) that I vaguely began to consider working at the UN.
Oshiba
And after that, you entered Sophia University?
Yamashita
Yes. I wanted to go to a university in Japan, so when I was in my second year of high school I transferred to the Ōizumu Campus of Tokyo Gakugei University Senior High School, which accepts only returnee students. When I began to decide on a university to attend, I learned that the Faculty of Law at Sophia University had just established a new department, the Department of International Law. Since the department was offering courses aimed at fostering individuals who wished to work in international society, I was convinced that this was the most suitable choice for me. Actually, I first met you when taking a class you were teaching as an assistant professor in that department (smile).
Oshiba
And since then, you have helped me with many things, including my own research, even after you joined the UN (smile). Could you please tell us a little more about how you joined the UN while you were at graduate school?
Yamashita
Thinking that English language abilities and specialized knowledge would be essential to work at the UN, I entered the Fletcher School of Law and Diplomacy in the United States. During my summer vacation, I had the opportunity to experience an internship at the UN to find out more about this institution of which I had longed to be a part. That experience convinced me that this was the only place for me, so I took the competitive examination at the UN while still a graduate student.
Oshiba
Do you think the UN felt familiar to you because you were raised in such an international household? Your background is a little different from that of most students.
Yamashita
No, it didn't feel familiar to me at all (smile). I happened to have been born in such circumstances, but the languages I could speak were only Japanese and German. I was worried about working in English, and about the exams a lot too. I was in the same circumstances as other students during my university days; I did not have special access to information about the UN, so I think that in feeling distant from the UN I was no different than the other students. If there was a difference, it was in the scale of my dream – I really did want to work at the UN. I have the stereotypical personality of a Taurus who charges headlong at a goad – that might have something to do with it (smile).
An Exciting Time When the UN Shone Brightly
Oshiba

Right. Well then, what kind of job did you do at the UN?
Yamashita
It has been twenty-two years since I joined the UN. In that time I have experienced various jobs. My first appointment was at the Office for the Research and Collection of Information, where I assisted a Secretary-General with collecting and analyzing the international political situation. When Mr. Boutros-Ghali was appointed Secretary-General in 1992, however, a large-scale structural reform began, and my office was shut down. I was completely at a loss when I saw a notice saying, "The Office for the Research and Collection of Information is closed as of today," on my desk suddenly one morning (smile). Through the Office was dissolved in the large structural development of the Department of Political Affairs (DPA), I was also allocated to the Electoral Assistant Division (EAD) under the DPA. I worked there for eight years. It was a time when the United Nations Peacekeeping Operations (PKO) had been stepping up activities. There were many cases in which peace agreements were made, the PKO's intervention led to a conclusion of a conflict, and the parties involved chose a new government via election in the conflict areas, resulting in the withdrawal of the PKO. It was also a time when there was expanding support for not only observing elections, but also providing technical assistance to election committees, in countries such as Cambodia, Mozambique, El Salvador, Eritrea, and South Africa. I myself, based in the UN Headquarters in New York at the time, often went into the field and took part in such support activities.
Oshiba
It was a time when the UN was shining through various activities such as the PKO.
Yamashita
Yes, it was indeed a rewarding, and very exciting time. After that, I moved to the Africa Division in 2001, and took charge of the South Africa section. It was at the time when the situation had shifted to the peace-building process, the next stage after conflict resolution. I did not need to take many business trips, which was convenient since I gave birth around that time. However, the post itself was quite difficult in that I had to proceed through discussions with all parties while being careful not to play up the presence of the UN, since the issues at stake – such as support for constitutional revision or the reorganization of civil society – were closely tied to the sovereignty of the nations in question.
A Good Environment for Work-Life Balance
Oshiba
You had a great experience, then.
Yamashita
Yes. It was a time when I grappled with how to bring about "Peace Building" in the real world, together with the specialized institutions of the UN such as the United Nations Development Programme (UNDP). Then in 2007 I moved to the Southeast Asia and Pacific Division at the DPA, and was responsible for nations with various issues, mainly in Southeast Asia. For example, there's Communist Vietnam, the Union of Myanmar which was a military regime at the time, Brunei which has an absolute monarchy, and Fiji which has experienced numerous coup-d'etats – there are so many issues that need to be resolved. I began to itch to go out in the field again (smile), and applied for a political mission to Nepal in 2010, whereupon I was dispatched there as Head of the Political Affairs Office for the United Nations Mission in Nepal. I took along my son, and was ready to stay there for at least a year. Unexpectedly, however, I was sounded about the current post in Tokyo only about three months after I was dispatched to Nepal. I thought that this would likely be the only chance in my life to work as a member of the UN in my home country, and that it would also be a good opportunity for my eight-year-old son to learn Japanese, so I decided to go to Japan.
Oshiba
You have certainly had a range of work experience in the world. It seems that going into the field like you did would be a difficult for people who are married with a family. Does the UN take that into consideration when they assign their staff?
Yamashita
Staff members of aid organizations such as the UNDP(United Nations Development Programme) or WFP (World Food Programme) are employed on the condition of going into the field; however, up until the present the staff at the Secretariat could decide by themselves whether or not they would go overseas. I joined the UN in my mid-20s, and got married when I was 35. Since I was single for the first ten or so years, I actively went into the field thinking to situate myself within the major transitions of the world. Working at the UN Headquarters in New York was exciting, but I had a strong feeling that I wanted to go out in the field. After I got married and had a child, however, I decided to leave the field for a while. It was my own choice, and I feel that I was able to effect a good balance between work and private life. The UN generally assigns the staff of each nation in a fluid fashion like this. Some metropolitan cities have large-scale institutions called "Family Duty Stations," where staff members can be appointed to new posts with their families. Furthermore, it is possible to leave your family members behind in a safe area even if you are assigned to go into the field, and then take one-week holidays every few months or so to spend time with them. There is almost no case where you can take your family along to an area where the PKO is operating, though.
The Limits of the UN
Oshiba
I see, so it's possible to work without too many worries then. Now then, you are mainly involved in jobs related to the politics of supported nations. Such jobs must be very rewarding, but I suppose there must be many difficulties as well?
Yamashita
I chose to major in international relations at university and join the UN because of my interest in international politics, so just joining the UN itself made me thrilled. However, there are many occasions when we have to face extremely difficult issues or challenges. For instance, when I was taking charge of facilitating the democratization of Myanmar, I had to deal with matters in every possible framework within the capacity of the UN, such as the United Nations General Assembly, United Nations Security Council, United Nations Commission on Human Rights, and so on. Still, it remains questionable how much we could really support the democratization of the country. We dispatched a special envoy of the Secretary-General, and made a huge investment. Nevertheless, when the large-scale anti-government demonstration by several tens of thousands of people, especially monks, was held in 2007, and the military government cracked down on them by force – at the moment, I felt like I had witnessed the limits of the UN. It produced so many dead and injured, including a Japanese journalist named Nagai Kenji. Unfortunately it is not unexpected that situations like that develop in such a state. The current situation in Syria is symbolic in this way as well. Still, I believe that there is room to improve the significance of the UN, and that it is our duty as UN staff to deal with any situation.
Oshiba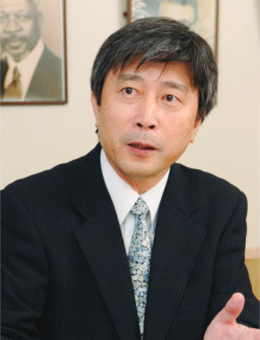 Ms. Yamashita, you have been active in the world like this and have now returned to Japan after some 20 years. Now it is said that currently Japan can be characterized as "lacking in spirit" and "introverted." I personally think that Japanese have enough skills and abilities that there is no need to become demoralized. How do you feel about such a trend, having returned to Japan after being overseas for a long time?
Yamashita
I was really surprised seeing how people in Japan seem to be in low spirits when I came back two years ago. That's because during all my time working at the UN and going into the field in various places I had been sensing that international society had high expectations for Japan. Unfortunately, Japan is not currently a member of the United Nations Security Council, despite the feeling in the field that Japan is considered as important as the permanent members of the UNSC, as seen in expressions like "P5 plus Japan." Japan achieved rapid economic growth after the postwar revival and became a top class world economic giant. This brand image of Japan is still powerful in the world. Japanese are welcome in any country. True, the ratio of Japan's financial contribution to the UN has dropped from 19% to just 12%, but even then it still ranks as second. The third is Germany, while China ranks as eighth. Japan's position is significant for the UN as well. Our Secretary-General comes to Japan almost every year, but this is because Japanese is an important nation.
Many Youth are Interested in International Activities
Oshiba
So it seems there is a huge gap between how Japan is seen in the world and how Japanese see themselves.
Yamashita
This gap surprised me a lot. The tone of the mass media is also largely responsible for making Japanese feel so introverted. The mass media often reports that recent youths are introverted, but this is simply not the case. The many opportunities I have had to encounter students all over Japan through lectures and so on have given me a strong feeling that a huge number of young people are interested in international activities or working globally. Perhaps support for them was not sufficient. A university may offer support for study-abroad or the like, but what worries them the most is getting a job – in other words, they believe that delaying graduation by even one year will become a disadvantage for them to find a job.
Oshiba
You are absolutely right. Have you ever encountered any actual examples of such?
Yamashita
There was a Japanese student who was studying abroad at Oxford University. He hoped to gain a position at a Japanese company, and participated in an international job fair which matched students with corporations. At the fair he proceeded to the interview stage with a Japanese company, but they seemed hesitant to give him a job offer. On the other hand, a foreign-affiliated company gave him a job offer immediately after the interview. The student took the position with the foreign-affiliated company, and is currently employed at a local subsidiary in Japan. Now we cannot rush to judgment just based on this case since the issue of compatibility between an employer and employee is also important; however, it is nevertheless the reality that it is difficult even for a student with international experience studying abroad, sufficient abilities, international communication skills, and a strong desire to contribute to a company, to get a job at a Japanese enterprise. It is unfair for the younger generation to be criticized as introverted when they are facing such a reality. Society should be reformed in such a way that when young people go abroad as students their overseas experience will be an advantage.
Oshiba

I totally agree with you. There are many students at Hitotsubashi University who want to go overseas; which is really encouraging. However, we need to improve the system in order to meet the needs of such students. We would like to appeal to universities to improve their systems to enable students to study abroad more flexibly, and for companies to evaluate students' overseas experience fairly.
The Appeal of "Has Volunteer Experience in the World"
Oshiba
Now at the beginning of this interview, you mentioned that you joined the UN by passing a competitive examination. Could you please tell us more about the examinations for students who are interested in the UN?
Yamashi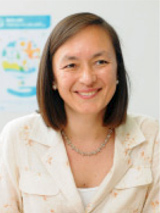 ta
The competitive examination is the only hurdle you have to clear to be a regular staff member of the UN Secretariat at the entry level. The UN has 193 members, and anyone who is a national of a member country is eligible to join the staff of the UN. Among those member countries are countries which have no staff or only a few staff members of their nationality. The UN has as many as 2000 posts which are aimed at people from such countries for employment. Considering that Japan is ranked at second in the world in terms of the ratio of its financial contribution, it is not surprising that at least 270 such posts are assigned to Japan.
However, in reality, the number of the posts held by Japanese nationals is only 65, which is approximately one quarter of the expected number. Priority in the competitive examination, held once a year, is given to countries with only a small number of nationals currently at the UN. This means that Japanese nationals have the opportunity to take the examination every year. The jobs are varied – there are positions not only in politics or economics, but also medical matters, provision of supplies, graphic design, and so on. I personally think that having an active Japanese graphic designer in the UN would be conducive to changing the atmosphere.
Oshiba
What kinds of subjects are included in the examination?
Yamashita
The contents may have changed a bit recently, but when I took the examination, in the field of politics, there was a two-day written examination. On the first day we were required to write short essays in response to ten questions concerning international relations. On the second day, we were asked three specialized questions. The length of the examination was four hours on each day, and both questions and answers were in English. In terms of the content, to answer the questions graduate school study or knowledge acquired through commercially-available books should be sufficient. The point is that you have to answer all of the questions in English (or French). After the written test, you are required to take an oral examination. The examinee chooses one envelope from among three containing questions, and is given ten minutes to prepare an answer before being examined. Those who pass the oral examination then become successful applicants. However, passing the exam does not guarantee that you can work with the UN immediately. A job can be offered only when a post becomes available.
From the evaluators' perspective, those with advanced degrees and excellent results on the written examination are certainly attractive. However, those who have real working experience or have been engaged in volunteer work in various places in the world on top of these two conditions tend to be hired. Needless to say, the examinations are conducted fairly.
How to Effectively Spend Your Twenties Based on an Outlook for Your Thirties and Forties
Oshiba
I see; knowledge alone is not enough – a range of experience in the world is also required. Since staff members at the UN are often required to deal with urgent issues within a limited time span drawing on their own knowledge and experience, it is more desirable to be trained in such things to some extent.
Yamashita
Since it is difficult for a student to encounter such opportunities by themselves, it would be an enormous advantage for the students if universities could offer field courses. I believe that is it extremely important to go into the field in order to understand what kinds of issues there are in the world. The developing countries, in particular, are difficult to understand without having been there. What sort of atmosphere holds sway in what kinds of area, and what kinds of people are having what kinds of living – just visiting sightseeing areas where you are treated as tourists is insufficient.
In this sense, I believe that it is important to consider how young people should effectively spend their twenties based on an outlook for their thirties and forties. I understand that students have to get jobs after graduating from university; however, 22 years old might be a bit too immature in global society. Looking back at myself, entering the UN after passing the competitive examination at the age 24 while still studying at graduate school, I sometimes wonder if I might have rushed a little too much.
Oshiba
You mean that they need to know the real world, right? On the other hand, just observing the real field is not good enough to find solutions to issues.
Yamashita
Certainly. It is interesting to follow the trend of international politics in relation with the United Nations Security Council, but one tends to forget the real field. On the other hand, only being in the field makes you feel that the decisions which the UN Headquarters makes concerning pressing issues have not reached a satisfactory level. Looking at things from both sides, however, makes it possible for you to understand what is really doable and what kinds of policies are most suitable to the situation. What's important is being able to understand the balance between these two things.
The Japanese Characteristic "Consideration for Others" is an Excellent Quality
Oshiba
Earlier, we talked about Japanese being introverted. In current Japanese society, the image of what kind of person should lead in international society has become obscure, I'm afraid. What kind of person do you think that Japanese should strive to be in order to be active in an international society, based on your own experience at the UN?
Yamashita
Firstly, it is necessary to learn international politics and understand the complexities of international relations. Such an advanced education can be acquired within Japan. The extremely important premise of such knowledge is that you understand through your own experience that there are various cultures in the world. The UN itself is filled with people of varied backgrounds. It is more than expected that all these people are working in the same institution, and that you will work alongside these people and produce results with them. Everything starts from that. It is essential to understand that what you take for granted is never what others take for granted. In this regard, Japanese have an advantage. Generally speaking, Japanese tend to have an excellent quality called "consideration for others," which involves empathy or thinking from the perspective of others. This is a very important skill. Moreover, Japanese work very hard, so like this I believe there are many ways in which Japanese can contribute to international society.
Oshiba

Language skills are also indispensable, I would think?
Yamashita
English language skill is absolutely necessary since it is considered to be an internationally common language. This cannot be helped. Everyone who comes from a non-English speaking country has the same handicap in this regard, so one has to acquire language skills based on this premise.
Furthermore, there is a preconceived notion that Westerners are most suitable to be leaders in the international political scene. Using English exclusively also encourages one to think in a Western way. In the UN, however, that is not sufficient since our nature is being "international." Our current Secretary-General is Ban Ki-moon from Korea. The system changed a little since his appointment. At first he was criticized for not being skilled at public speaking or lacking in charisma, but all that criticism was based on the presumed image of Western leaders. On the stage of international politics, though, the people who play the roles of mediator are mainly ex-ministers or ex-diplomats. Conversely, only having people from that background engaged is a problem. It is mainly countries outside of Europe and America where international issues such as conflicts occur; thus, individuals from Europe or America may not always be best suited for solving such issues. Syria is a good example. I believe that there are millions of things that Asians can do, and what we Japanese can do. We should start by sending out more and more people from Japan who can be active in the world.
Have More Confidence in Being Japanese
Oshiba
In general, Japanese are not very good at self-assertion. We tend to believe that we cannot be recognized in international society unless we are able to be assertive. What do you think about that?
Yamashita
I also used to think that I needed to be more assertive like Westerners in order to be an international person; but, what I am not good at is what I am not good at after all (smile). However, it is also true that this sort of refined Japanese culture is also appreciated here and there. What matters the most is, not trying hard to make yourself match to Western-style culture, but rather considering what you can do with your own background in Japanese culture. Let's leave the Western style to Westerners. I strongly believe that Japanese should make what only they can do into their strongest attribute – and this is exactly what is required by international society. However, good communication skills in English are essential, needless to say. The level at which you can carry on a normal conversation with someone is not sufficient; you must reach the level where you can convince others, analyze things immediately, summarize effectively, and deliver them in a short length of time. That may be the most difficult challenge, though (smile).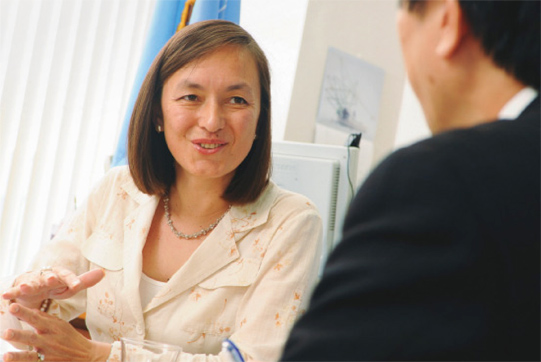 Oshiba
That is the most difficult thing to do even in Japanese (smile). By the way, you have taught classes at our Graduate School; do you have any particular expectations or advice for our students, or for Hitotsubashi University in general?
Yamashita
I felt that the students at Hitotsubashi University were truly excellent when I had the opportunity to teach classes there. It was truly enjoyable talking to them. The level of discussion in English was also high – I believe that their levels are high enough to reach the international standard. They can be ideal human resources like the UN needs, if they continue to study as much as they are doing now and gain real-world experience for a year or two as volunteers or the like. They will always need to remain aware, and keep trying hard to improve their English skills.
This could be said to the younger generation in general, but I believe it is important to be more confident in being Japanese. Japan is facing energy issues after the Great Eastern Japan Earthquake. I sense that the younger generation has a much stronger awareness of issues such as the environment, or the future of the earth. There are no doubt many things we can contribute through the technologies developed in Japan in order to solve such issues. The work by Japanese tends to be gladly accepted by the world; indeed, it is wanted by the world.
Oshiba

There are many Japanese values which we would like the world to share. We Japanese were arrogant at the height of the bubble economy. On the contrary, we are now losing confidence, let alone being arrogant. However, Japan has a lot of things which give us confidence, and has abundant potential as well. You have reconfirmed that it is a major mission for university education to draw out such potential. Thank you very much for your time today.
Originally published in Japanese in HQ (Hitotsubashi Quarterly), the university's public relations magazine, vol. 36 (October 2012).