Student Profile 2
Think Internationally, Act Globally, for a Locality
An interview with Miki Nakao, 4th Year Student in the Faculty of Law
Cultural Exchange: My First Study Abroad Experience
One of the reasons why I chose Hitotsubashi University is their substantial study abroad system. I lived in the United States from age 2 to 4, and then in Australia from age 6 to 8 because of my father's job situation. The first elementary school I attended was a local school in Australia, but I was a bit too young to consciously understand the acquisition of English or cultural differences. However, having the label of returnee affixed to me invited biases from others, such as sentiments that "of course Miki knows English." Biases like that frustrated me a lot – I wonder if that may have even become my fundamental motivation to study English and go abroad.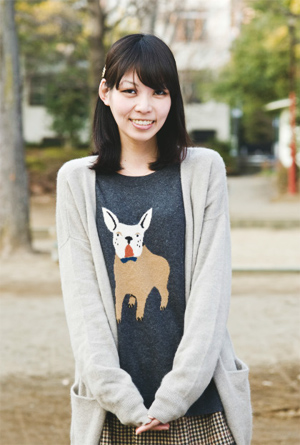 During the spring vacation in my first year, I went to Monash University in Australia for a short-term study abroad program. This was my first experience studying abroad, and it also gave me a feeling of returning home. The program focused on cultural exchange. I stayed with a Chinese-Australian family and participated in various exchange (interaction) programs. Through this study abroad program, I was able to get to know many students from not just Hitotsubashi University, but also universities in Nagoya or Osaka. Discovering that so many people were interested in international communication was certainly a great gain. I still keep in touch with them.
Facing Challenges at a World-Famous University
In my second year, I went to Stanford University on a short-term study program during the summer vacation. It was sort of a challenge in my mind, although honestly speaking, I was also just excited to be going to "world-famous Stanford University" (smiles). This overseas language training program was aimed at people from Asia, and many students from top schools in China, Korea and Taiwan participated. Until then, I had heard that the students at top schools in Asia studied very hard, but the reality I saw through studying with them was beyond what I even imagined. Almost all of the Korean students were placed at the top-level on the placement test based on their English language level, and the only Japanese student in the class was me. They had an excellent command of English as a tool. Even if they made mistakes in grammar or pronunciation, they spoke up without hesitation and aggressively presented their own opinion. Seeing them, I became strongly convinced that Japanese lack such aggression for fighting.
At the same time, I also came to realize that in some ways being Japanese is advantageous. People tend to treat us in a friendly manner just because we are Japanese. Many people are interested in Japanese culture too, so they approach us in a positive way and ask us various questions. However, I felt that other Asian students who were trying to cross the barrier by themselves had more eager spirits and the strength to overcome difficulties. I felt that Japanese do not make efficient advantage of the merits of their being Japanese.
One more thing that struck me was discovering that there are many people who truly appreciate development assistance from Japan. An African student, beaming, told me that "The Japanese have been so nice. They have made great contributions to Africa." I think that the mature and unique culture of Japan should be introduced overseas more and more. At the same time, we Japanese should definitely learn about the many Japanese trying so hard overseas. Such knowledge will help to increase our confidence.
Seeking to Understand China
I stayed at the home of a Chinese-Australian family while studying at Monash University, and made Chinese friends during my time at Stanford University as well. Furthermore, I was tutoring a Chinese student at Hitotsubashi and could strongly relate to her thinking about future plans and careers. I had a familial feeling towards Chinese people, and I think it was the same for them as well. We can build good, friendly relations between individuals, but great conflicts exist when the relationship is between nations. This is such a sad thing, and what causes it to happen? This became my motivation to participate in a training program in China dedicated to fostering international economists during the summer vacation in my third year. It was a good experience, but such a short time was not sufficient to deepen my understanding. After that, I took advantage of the Josui Alumni study abroad program and went to Pennsylvania University during the third semester of my third year. Before departing, I was quite excited and motivated – I had earnestly studied international relations at Hitotsubashi University, demonstrated a good performance in the English language course at Stanford University, and was rather good at making presentations. Based on all my experiences and the skills I had developed so far, I was going to study international relations in depth at a world-famous university in the US, I thought to myself. I departed brimming with hope and ambition.
Approaching the Core of International Relations
My days at Pennsylvania University, however, began with a series of great difficulties I had not experienced before. First, I had to face the fact that my knowledge was based on the approaches and cases in Japan. Thinking back, this should have been obvious to me at the time. The study of international relations in the US was, needless to say, based on cases in the US, so I had to start re-studying everything from scratch. Moreover, they never give any special treatment to international students in the extremely competitive society of the Ivy League universities. It is just assumed that students can do everything, including the language. Their attitude is, "If you do not understand, it is your own responsibility. If you cannot keep up with us, then you do not need to be here." Until then, I had believed that as long as I tried my best, I could try anything and achieve a result. However, it did not work there. I could not reach the required level no matter how much I tried. With a broken spirit, I even walked around campus crying "I'm nothing."
During summer vacation, the students were required to leave the university residence. I decided to take an internship at the Japanese Embassy in Washington, D.C. What I encountered there was another US culture which was very different from that of the Ivy League universities, and the way of life of Americans who do not take part in competitive society. My role there was as sort of a mediator between the diplomats and the local people. People dealt with me frankly, and treated me as an individual – nothing but Miki Nakao herself. Their attitude taught me a valuable lesson: I do not need to try to be anyone but myself. There are some things that I simply cannot do, but people were far less concerned with my failure than I imagined. All I can do is try my best anyway.
Becoming aware of this was a truly significant turning point for me. I believe that this experience became an opportunity to look back on myself again without any prejudice. Until then, I had believed, and subconsciously expected, that the environment can change people. Certainly, the environment can contribute to someone changing. However, in the end, nothing can be achieved if the person is not trying to change themselves. The only thing that can really change me is myself. So if I wish to change, I must do so by myself. I would not have been able to truly understand this if I had not studied abroad.
One more thing that my study abroad experiences taught me is how to understand the "global." I now believe that "think internationally, act globally, for a locality" is my stance as well as my policy. I cannot escape from being Japanese regardless of the situation, and I would like to be proud of that. At the same time, I would like to act while enjoying the convenience of globalism, which allows for the free transportation of goods or information based on a fair understanding of, and respect for, each culture. In so doing, I would like to contribute to the country where I grew up.
After graduating, I am interested in pursuing jobs that support people to go overseas with confidence. At the same time, I am interested in improving my business mind, which I have not yet developed sufficiently due to following a path close to academia. Although I have not yet decided my future career concretely, I would like to be a person who is capable of working on a world scale, equipped with a good balance of academic and business mentalities. In doing so, I want to aim to be a person who can contribute to Japan and its national interests.
Originally published in Japanese in HQ (Hitotsubashi Quarterly), the university's public relations magazine, vol. 38 (April 2013).