Student Profile 1
The Never-Ending "Global": Broadening My
Horizons, and the Joys of Understanding Others
An Interview with Takahiko Ueno, 4th Year Student in the Faculty of Social Science
An Internship at Bergé, a Spanish Company:
Experiencing the Warmth of the Spanish People
For some reason, Mr. Ueno had long been attracted to the countries of the Mediterranean, and in particular, the history and language of Italy. It was when he was attending high school that this interest transformed into a strong desire to travel there. At first he thought of taking the entrance exam for a foreign-language university in order to study languages, but he decided to come instead to Hitotsubashi University, thinking that he could gain a deeper understanding of his interests through studying the social science disciplines. He was interested in the study-abroad program at Hitotsubashi from the start, and considered it an excellent way to make his dream reality.
"When I entered Hitotsubashi University, it had no affiliated schools in Italy. So, I decided to aim to study abroad in France, which is also connected to the Mediterranean, and took French language courses in my first year."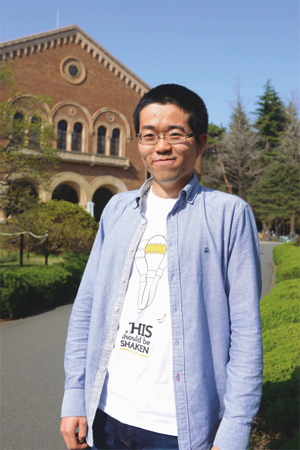 Mr. Ueno's dream of going overseas came to be realized when he was in the second year of his program. He was selected to participate in a five-week internship program at Bergé in Madrid, Spain. Bergé is the second-largest trading company among unlisted companies in Span, and developed from a shipping business. Hitotsubashi University enjoys an affiliation with them.
"At Bergé, I experienced the job of creating a manual for some new accounting software. Basically, the staff communicated with each other in English. Although the other interns did not have any difficulty speaking English, since most of them were returnees, my English was not very good at the time. So, I tried my best to communicate in Spanish, which I had learned by myself. This turned out to be a good experience at the end. It was helpful for brushing-up my Spanish as well, I believe."
He was in Madrid when the East Japan Earthquake occurred on March 11th, 2011. The unprecedented disaster was widely reported in the Spanish media as well, and images of the tsunami flashed repeatedly across TV screens. The shock that he and the other Japanese staff members experienced was simply beyond words, but the Spanish staff members attended to them with warm hearts.
"They truly sympathized with us and with Japan, and worried about the Japanese people from the bottom of their hearts. I can never forget the feeling of their warm hearts."
Combining Open-Mindedness with Local Identity:
They Clearly have Their Own Standard for Happiness
After experiencing the internship at Berge, Mr. Ueno decided to study abroad at Trent University in Italy as well. It would be lie to say he was not worried about hunting for a job. Indeed, he was aware of the thinking that delaying his graduation for a year might put him at a disadvantage for finding a job. However, his desire to study abroad in Italy overcame these worries.
"The economy stagnated in Italy, and people are suffering financially. Many Japanese tend to understand such a situation negatively. On the other hand, there is sympathy for the Italian lifestyle, including such things as slow food and a high happiness index. What did all this mean, I asked myself. What kind of country was Italy? I was curious about the answers to such questions, and wanted to see the country with my own eyes."
He submitted his application materials to Trent University, but it took a long time to receive information about such things as the types of classes offered, and the sort of preparations required to study there. However, he did not become anxious, as this was also one aspect of Italy. After all, he felt, most of the necessary information was available online, and this just gave him more time to study Italian before his departure.
"A professor who was familiar with Italy gave me advice about many things. I departed Japan on a Monday, based on his suggestion to avoid arriving on the weekend; however, when I arrived at the airport in Milan the city-bound trains had stopped due to a strike (smile)."
Trent, the town where he went to study, is located in the north of Italy; it is closer to Austria than to Milan. The local industries cooperating with the university have been developing and people from many different countries, including international students, were living there. While spending time there as a member of this community and increasing his connections with the local area, he naturally came to feel the characteristics of Italy through his experiences.
"Local areas are highly independent and in a sense are a closed society, but this does not mean that have closed their doors to the outside. Let's take festivals for example. Not only are foreigners also welcome, but we are happily brought along to the festivals. An international student from Brazil was asked to take an important role in a festival because they were impressed by his amazing physique."
People are attached to their own lifestyles, and are proud of their hometowns as "number one."
"They say, "Living in metropolitan cities or being wealthy is surely nice too, but I like my everyday life, just having a drink at my favorite bar on the way home, the best."
I realized that it is such magnanimous people that are creating attractive Italian cities."
The studying itself is important, of course, says Mr. Ueno. However, the effects of studying abroad are not limited to that. Actually living in the location – that action itself can be a chance to change things in one's life, he believes.
"I feel that I was able to gain a grasp of the atmosphere of the city, or the way people spoke in Trent – something that cannot be explained in words. In fact, after returning to Japan, I came to be able to observe minor differences even traveling within Japan. I think that such an awareness is the first step towards understanding."
The Joys of Meeting Others:
Inside Myself, Studying Abroad Never Ends
Taking advantage of being a student and the accessibility of major cities in Europe, Mr. Ueno actively expanded the range of his activities. In Düsseldorf, he was welcomed by the members of the Josuikai alumni association who were active in local society, which made him realize the spirit of Hitotsubashi University in a world context. Furthermore, while in Trent he had the opportunity to meet Mr. Giorgio Amitrano, who translated the works of Murakami Haruki into Italian for the first time.
"My horizons, and those of my friends or acquaintances, have been seamlessly expanding; this is what I understand as the global. One thing that I felt strongly was that the study abroad experience never really ends. Even though it ends in time and space, the consciousness that one gains continues on to the present."
For instance, if he finds international students who have a hard time being frank with others at a student party, he looks back on his own experience, and is strongly motivated to introduce friends to them.
"The better that one knows others, the deeper the joys of knowing other. This is also one of the things that really hit me during my time studying abroad. However, studying abroad by itself is nothing special – it is not supposed to be experienced with a passive attitude just because someone recommended that you go. Real studying abroad begins when you are interested in going – that is what I believe."
Mr. Ueno is currently working as the student secretary-general at HEPSA (Hitotsubashi University Exchange Program Student Association), which supports the study abroad program. His main role is to support students in various capacities, such as preparing them for their study abroad experience, assisting them upon their return, and facilitating career development. Furthermore, he is interested in international sociology, and is motivated to research immigration issues in Mediterranean countries. His days are filled with various tasks including writing his honors essay, but he is also determined to fully commit to his work at the Secretariat.
Originally published in Japanese in HQ (Hitotsubashi Quarterly), the university's public relations magazine, vol. 39 (July 2013).